Room-service
Laundry service
Doctor-on-call
Udaipur City Safari
Helicopter ride
Horse Safari
Bicycle Tours
Massages
Swimming Pool
Dining-Restaurant and Roof-top Restaurant
Weddings
Conferences
Other Events
Booking travel by cabs
Booking tickets for travel by air, rail, or bus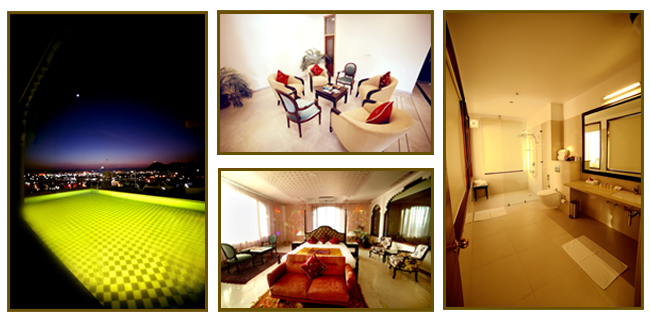 TURANG (RESTAURANT)
"Turang"is the local name, for the warrior-breed of Marwari horses of Rajasthan. To whet your appetite for history, it is relevant to mention here that CHETAK (the adorable horse which sacrificed its own life to protect its master MAHARANA PRATAP, the legendary ruler of Mewar) was also a Marwari horse. "Turang", the restaurant at Raj Kuber, pays its tributes to the noble aspects of this valorous horse, through the linen, crockery, menu-cards, signboards and placards in the restaurant.

"Turang"has the unique distinction of being the highest roof-top restaurant of Udaipur city. It caters to a wide-range of palates through its Indian, Continental and Chinese cuisines. However, for the incorrigible gourmet looking for a lingering taste, our local "Mewari Thaal"(with spices varying according to individual taste) could well be the first preference.

"Turang" also has a "live"kitchen on the rooftop-----managed by highly qualified chefs and their supporting staff, under zero-error hygienic conditions.

Therefore, please come to "Turang" with high spirits, and continue the same high spirits during your meals. Raj Kuber will do its best to keep up your cheerfulness and high spirits, with the best of its services.
DUBKEE (Swimming-Pool)
Ever thought of having a cool, relaxed swim somewhere in between the earth and the sky?! At Raj Kuber, you do not have to think twice about this unearthly idea. "Dubkee"(meaning a splash in water), our swimming-pool on the fourth floor will make it possible for you in a jiffy. Moreover, a swim in "Dubkee"will also provide you with a picturesque view of some of the most attractive locations of Udaipur. Or, you can simply relax on the deck-chairs and enjoy your soothing , by the side of the pool.